Services
Max Menard's areas of service include:

Wills & Estate Planning

Civil Law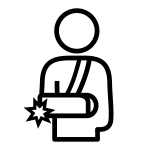 Personal Injury

Contract Law
Corporate Law

Personal Injury
As a former insurance defense attorney, Max has a big picture view of personal injury cases that give him an ability for strategic analysis. His calm and logical approach is comforting and reassuring to clients when they meet with him one-on-one in his modest, downtown Youngsville office.
In the courtroom, however, Max presents a different persona, bringing the toughness that is necessary — though often unrecognizable to his clients on their first day in court.
Max knows that you've got to go the distance and demonstrates a strong commitment to his clients, large or small. "It's about doing the right thing," explains Max, "because I'd rather handle 20 cases that matter, than 200 that are driven by monetary gain."
General Practice
In the early days of opening his Youngsville office, Max delighted in handling a variety of work including everything from successions, probate and wills to simple needs for notarizing.
With more than 20 years in the practice of law, Max has a wide range of experience. His undergraduate studies in geology have proven valuable for clients from the oil and gas industry as well as Max's experience with contract law and business law. (Criminal and family law are the only areas of law that Max does not serve.)
Max's door is always open and he prefers meeting with clients himself — a signal of his commitment to dedicate his time to you, his client.